Seamus Gwyn recommends the following books. Though many of these were not published in 2008, they were read repeatedly in the Gwyn household last year. Enjoy!
The Jolly Barnyard
by Annie North Bedford and Tibor Gergely
One Was Johnny
by Maurice Sendak
Where the Wild Things Are
by Maurice Sendak
Gallop!
by Rufus Butler Seder
Oh the Thinks You Can Think!
by Dr. Seuss
Dinosaur Roar!
by Douglas Wood and Doug Cushman
Where is Baby's Belly Button?
by Karen Katz
Miss Smith's Incredible Storybook
by Michael Garland
Miss Smith Reads Again
by Michael Garland
Birds of North America (Eastern Edition)
by Fred J. Alsop III
DK First Dinosaur Encyclopedia
Hand, Hand Fingers Thumb
by Al Perkins and Eric Gurney
Curious George Goes to a Costume Party
by H.A. Rey
Crictor
by Tomi Ungerer
What Grandmas Can't Do
by Douglas Wood and Doug Cushman
Polar Bear, Polar Bear What Do You Hear
by Eric Carle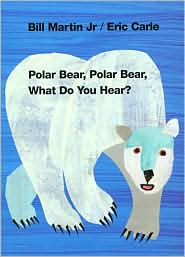 Slowly, Slowly, Slowly Said the Sloth
by Eric Carle
Bear About Town
by Stella Blackstone and Debbie Harter
ABC: a Child's First Alphabet Book
by Alison Jay
Dog
by Matthre Van Fleet
Frog Went A-Courtin'
by John Langstaff and Feodor Rojankovsky